The tropical cyclone heading toward New Zealand is expected to bring dangerous conditions to the North Island and parts of the South. Video / NZ Herald
Northlanders are hearing consistent warnings to be prepared and create a 'grab bag' as a cyclone approaches.
It may seem overly cautious, but one only has to look at the devastating effects of slips and flooding in Tāmaki Makaurau to understand the need for an emergency bag.
Packing an emergency pack is not always financially possible for some people, which is why Civil Defence says that something is much better than nothing.
If you frequently use the items that you would take in an emergency, it may be smart to compile a list so that you can grab things around the house and then go.
The first thing to consider in a cyclone event is that the likelihood of power outages is high.
This is why a torch, radio and spare batteries are absolutely essential. Civil defence recommends not packing matches and candles, as they can tip over in a gust of wind and start a fire.
A battery pack so you can charge your mobile phone will ensure you can contact people or emergency services, should the need arise.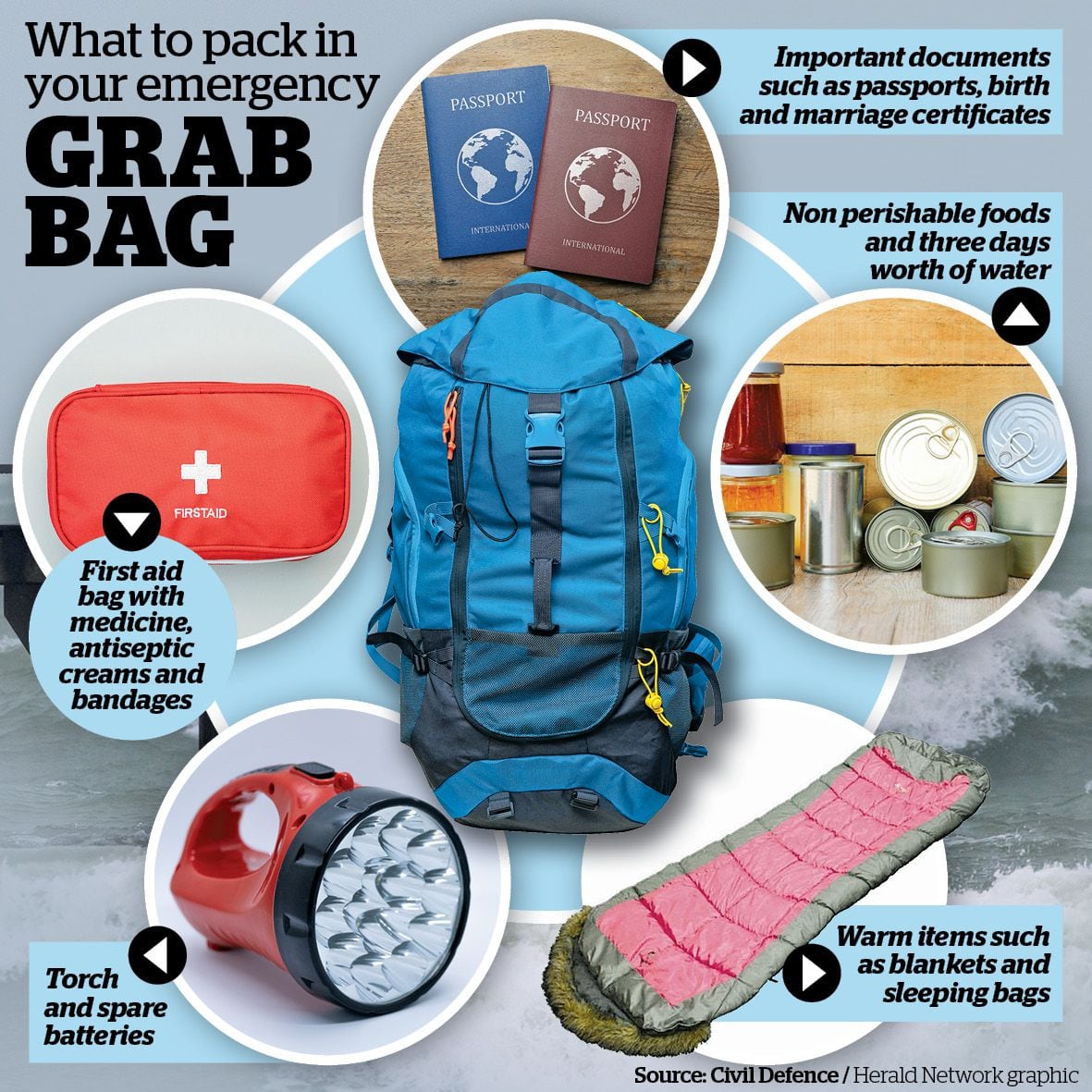 Special needs items that are essential to your personal, or your family's needs should be considered. This could include an inhaler, special medicines, or hearing aids.
A first-aid kit is also essential. You can find a list of items for a first-aid kit here.
For families with young children, a nappy bag with all the essentials for your child is an additional need. Consider also packing Pamol and formula, as well as bottles.
Toilet paper, hand sanitiser and toiletries and sun cream should be included.
Keeping warm and dry is essential, so pack a blanket or a sleeping bag. A raincoat, walking shoes and a hat are also useful items.
It's a good idea to have important documents, such as passports, birth and/or marriage certificates on hand in case you need to grab them and go. Also, have some cash on hand.
Milk powder, muesli bars, dried fruit and dark chocolate are good go-to's for food that lasts a while. Freeze-dried food items and tinned items are also useful – don't forget a can opener if you pack tins.
Remember to pack food for your pets as well. Dog or cat food that comes in vacuum packs is easy to pack away.
When dealing with floods, water supplies may become contaminated which is why having water on hand is a good idea. Civil Defence recommends that households have enough water for three days for drinking and basic hygiene.
Civil Defence recommends you pack enough items to last at least three days.
Being prepared in the event of an emergency means you are less likely to be caught out and need aid. Emergency services can then place attention where it is needed the most.
You can find lists of what to pack in a grab bag at the following websites: