In a 72-hour hour period, as much as 340mm of rain fell across Kaipara causing rivers like the Kaihu River north of Dargaville to flood. Photo / Supplied
Northland is facing an early Cyclone Gabrielle damage bill of more than $70 million – with major increases expected on that amount as more definite figures emerge.
Re-establishing the main roading access point to Northland remains one of the biggest challenges. Repairs to State Highway 1 over the Brynderwyns have so far taken 12,000 hours.
Whangārei Mayor Vince Cocurullo has already told the government almost $120 million in government money needs to be spent on making increasingly-damaged adjacent ratepayer-funded district roads used for diverted Brynderwyns SH1 traffic suitable for that purpose.
Urgent cyclone repair was needed as its closure – including when partially opened for one-lane travel only – was costing Northland $1 million a day – meaning an already $38 million hit to the region's economy.
Initial roading damage assessments show at least $50 million in Cyclone Gabrielle impacts across Northland's local ratepayer-funded council roads – Kaipara and Whangārei $20 million apiece, with $10 million in the Far North.
"And those assessments are only based on the Band-Aid approach, they're definitely not the gold-plated local roads' damage fix," Cocurullo said.
Waka Kotahi regional manager maintenance and operations Jacqui Hori-Hoult said Northland had never had such a widespread weather event roading closure of the type created via Cyclone Gabrielle.
The Government agency has already spent more than $1.6 million on the Brynderwyns SH1 damage – with no confirmed final cost for this job yet available, or timeframe for the provision of this figure.
Northland Civil Defence Emergency Management Group chair Kelly Stratford said the cyclone's impacts were ongoing.
"This event is not over and it will take years to fully build back. However the (response and recovery) work that has been done in a very short period of time is incredible," Stratford said.
Northland Federated Farmers president Colin Hannah said "many millions of dollars" of damage and production loss across the region could be added to the region's cyclone bill.
"There's more than a million dollars of damage and lost production in the Hikurangi Swamp alone," Hannah said.
Some Northland rural producers would be going to the wall as a result of the cyclone.
At the cyclone's peak, two-thirds of all Northland households – 46,000 of them – were without power. There were also 450 local roads impacted with 183 of those closed at some point.
More than half the region's 153 schools were damaged to varying degrees, with impacts concentrated around Whangārei and south, as well as Kaipara.
Ministry of Education head of property Sam Fowler said his organisation was still working towards a final regional damage cost figure.
Northland currently has 16 red stickered houses (Kaipara 10, Whangārei five and Far North one). There are 26 yellow stickered houses (Kaipara eight and Whangārei 18) and 19 white stickered houses, all in the Whangārei district.

Speaking as Northland Mayoral Forum chair, Cocurullo said Cyclone Gabrielle highlighted the importance of the North's climate adaptation work.
"More frequent flooding, droughts and coastal erosion are already a reality, posing serious risks to people, property, roading access, biodiversity and ecosystems," Cocurullo said.
The inter-council, tangata whenua group Climate Adaptation Te Tai Tokerau had met on February 20, acknowledging the need to move faster on Northland's climate adaptation work, he said.
Northland Regional Council's Cyclone Gabrielle regional rainfall distribution map shows from February 11 to Valentine's Day, Whangārei had the biggest rainfall with 420mm, but heavy rain was spread throughout the lower part of the North.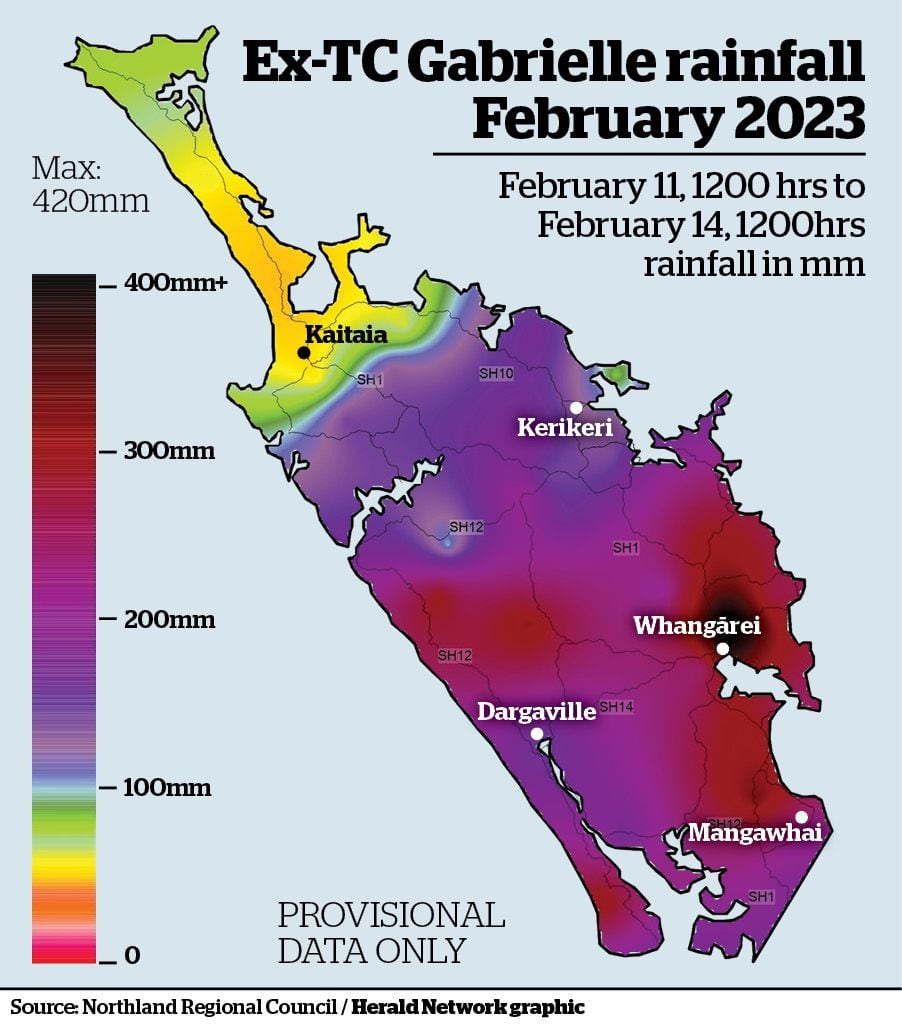 In a 72-hour hour period over this time, as much as 340mm of rain fell across Kaipara, compared with the average summer figure over the same time of 120mm.
Heavy rains in the Whangārei district's upper reaches of Kaipara Harbour's catchment added to this with major flow increases downstream into the Northern Wairoa River threatening Dargaville and surrounds a couple of days later.
Kaihu River flooded and the Awakino River also burst its banks with people getting rescued in the darkness before dawn. Silver Fern Farms' Dargaville meatworks flooded as did the town's wastewater treatment plant's ponds and pump station.
Northland Inc chief executive Paul Linton said there had been strong interest in Northland's $1.775 million civil defence business funding with more than 670 funding applications in the first week after the cyclone.
Whole region feels impact of cyclone
Kaipara:
Kaipara has emerged as the epicentre of Northland's Cyclone Gabrielle's wrath with at least a $35 million hit according to initial estimates.
Swathes of the district's flatter areas flooded. Smaller communities such as Pouto, Kellys Bay, Kaihu Valley, Baylys Beach and Tinopai were cut off by road. Ruawai, Pouto, Mamaranui, Hakaru, Maungaturoto, and Batley also had lengthy power and telecommunications outages.
The district's kumara growing area which grows almost all of New Zealand's kumara has been badly hit with some newer growers facing survival challenges.
Cyclone Gabrielle caused significant slips, subsidence, fallen trees, and damage to bridges and other roading infrastructure hit district-wide.
Kaipara District Council (KDC) chief executive Jason Marris said there had been 30 applications to date for his council's $479,000 Mayoral relief fund. This had included repairing damaged private wastewater lines plus replacing or repairing septic ranks, clearing accessways and replacing uninsured flood-damaged belongings. Applications for the first funding round closed on April 3.
"There are many individuals and businesses who have suffered significant and long-lasting damage as a result of Cyclone Gabrielle and Mangawhai's extreme weather event," Marris said.
Whangārei:
In Whangārei, Whangārei Heads, Waipū and generally flood-prone areas were the district's worst-hit. A water pipeline replacement for the Whangārei heads community is still being worked through. Coastal erosion and damage to Whangārei District parks and reserves amount to $3 million so far.
WDC said its $335,000 Mayoral relief fund had received 52 applications in its first two weeks after opening on March 7. Just over $40,000 had been allocated to 27 applicants for clean-up costs and lost freezer content.
WDC said those facing difficulty paying their rates after the cyclone should contact the council's rates team.
Rates rises were to be considered, along with government support, as part of paying for cyclone damage, along with an individual's insurance.
Far North:
Hokianga was the Far North's worst cyclone-impacted area.
Far North District Council (FNDC) acting chief executive Jill Coyle said her council had six staff now working on community, welfare and the Mayoral relief fund.
"The Far North has not been hit as hard as other areas of Aotearoa, but some vulnerable communities are less able to deal with the effects of the cyclone," Coyle said.
FNDC's $279,000 Mayoral relief fund had paid towards skip hire, roofing repairs and tree removal.
Public interest journalism funded through New Zealand on Air