Justin Hill on his way down the North Island. Photo / Supplied
Inspired by his grandmother and wanting to do something for a good cause, a Northlander diagnosed with arthritis is walking the length of New Zealand to raise money for Arthritis NZ.
Justin Hill, who lives in Raumanga, is halfway through the trip after completing the North Island leg in November.
"I started off running but my arthritis is getting the better of me. I'm doing a bit of both, running and walking," Hill said.
He was inspired on his travels by his grandmother, Joyce James, who had severe arthritis and limited mobility.
"I thought I'm going to do it in memory of her, and do something nice for a good cause."
The decision to make the journey came after Hill had to abandon his goal of completing his weekly park runs in a faster time.
"Every time I tried, the arthritis got so bad that I had to stop running for a while to recover. So I decided, I'm not going to be able to run faster but I can do something big for arthritis."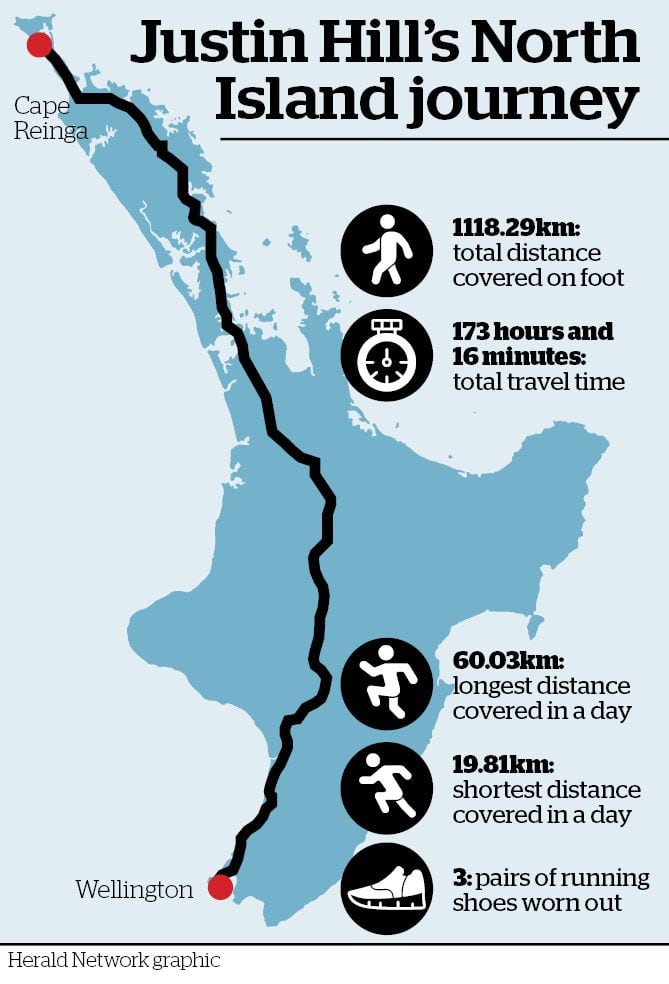 He travelled the North Island over 26 days – a total of 173 hours and 16 minutes, wearing out three pairs of running shoes in the process.
While he made the journey on foot, he has been accompanied by support people driving his motorhome (nicknamed Legz), giving him a place to rest between long days on the road.
The highlight of the trip, Hill said, was arriving at the Bluebridge ferry building in Wellington at the end of his North Island trip, to a cheering crowd and a glass of sparkling grape juice.
He was also able to visit Arthritis NZ's head office in Wellington, where he chatted with staff and had his story written up in their newsletter.
The low point was having to abandon one leg of the journey in Tairua after persistent rain and blisters on his feet.
Hill's wife, a schoolteacher, drove most of the way through the North Island but Hill needs volunteers to drive down the South Island so he can cover the 900km in one go, not just in school holidays.
"It's been too expensive travelling backwards and forwards to do it only during school holidays so I'm doing it all in one go," Hill said.
He has some potential volunteers but is still looking for more. Although he is making the trip in one go, it would be divided into four sections of 225km, each with five days of walking and two rest days.
Hill is back home in Whangārei, where he moved just over two years ago, and will resume his journey in Picton on March 11.
So far, the journey has taken longer than he hoped as he began doing it in sections while there were still disruptions due to Covid lockdowns.
Hill has been wearing a T-shirt with his Instagram on the back, where people can make donations via a link to a Just Giving page, and a number of strangers have donated after spotting him on the road.
He said exercise, rather than sitting around, helped arthritis.
"One of the things to help with arthritis is to keep moving so I always advocate doing exercise. A lot of people use it as an excuse, I'm using it as an excuse to keep moving.
"You can get out there and have a good life. You can live with it and there are things that can make it easier. Arthritis New Zealand has such a lot of support. They do amazing work and I don't think people realise."
Arthritis New Zealand's work includes advocacy, advice and peer support services. Hill's North Island walk has raised just over $2000 for the charity, but he is hoping to raise a lot more on the South Island leg.
Donations can be made via https://www.justgiving.com/fundraising/justin-hill2059?utm_source=Sharethis&utm_medium=fundraising&utm_content=justin-hill2059&utm_campaign=pfp-email